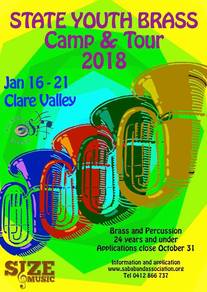 ​Following on from three successful tours, the Riverland in 2015, Yorke
Peninsula in 2016 and this year's tour of the Limestone Coast, the 2018
State Youth Brass Tour will be heading to Clare Valley for what promises to
be the best tour yet! We are staying at Bungaree Station where we will
rehearse for three days followed by three days of concerts at different
venues including Sevenhill Cellars, Mintaro Maze, Martindale Hall and St
Michael's Church. Our final concert will be back at Bungaree Station.
​
ACCOMMODATION, CATERING & TRANSPORT
We will be 'camping' in the Shearers Quarters, so bring your swags or a
sleeping bag and camp bed! We will have some down time during each day so you can relax and catch up with old friends and make new ones and there is a pool at Bungaree so bring your swimmers.
Application Form:
https://goo.gl/forms/LqtwO8P7rHC6WvF12
For more information contact Veronica Boulton on 0412 866 737 or
sayouthbrass@sabandassociation.org
.
​You will need to bring a packed lunch on Day 1 but all other meals will be catered. Getting to Clare Valley is your responsibility and it is possible to car-pool so please let us know if you would like help with transport. Once there we will be travelling by coach to the concert venues.

ELIGIBILITY
To be eligible you will need to be 24 years or under on the first day of camp which is 16th January 2018. The minimum playing standard will need to be approximately Grade Four (AMEB, ANZCA, TRINITY etc.) but you don't
need to have actually done an exam, you just need a teacher or your conductor to verify your playing standard. Applicants are also encouraged to indicate any conducting experience for consideration as co-conductors.

INSTRUMENTATION
Brass band instrumentation is preferred, however all brass will be accepted.
French horns will be required to transpose from E-flat. Trombones, tubas, euphoniums and baritones will be reading treble clef. Percussionists should be able to read music.

PERSONNEL
Supervisory staff all have the relevant Working with Children and First Aid as required for teaching in South Australia.

FEES
The aim is to keep the cost as low as possible so fundraising and sponsorship is still being sought. A deposit of $50 will be invoiced on acceptance of your application. The camp, tour and shirt will be a maximum of $250 per person (to be confirmed).