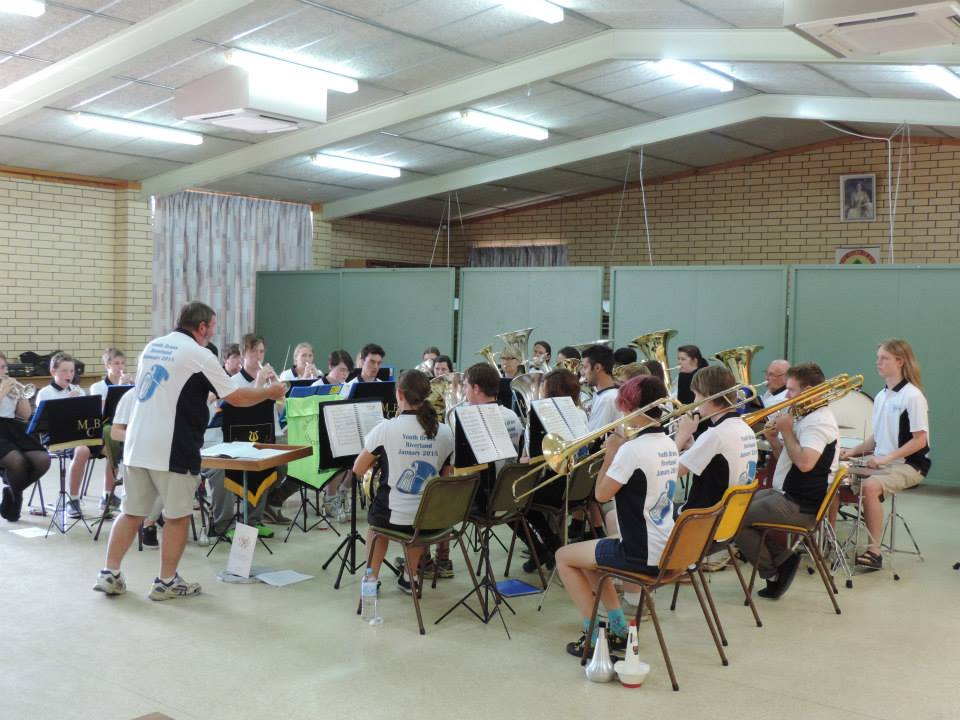 The South Australian State Youth Brass Camp and Tour 2015 has sucessfully blasted its way through the riverland. Under the skillful leadership of Jim Dempsey, 34 members of bands from South Australia came together to form a brass band at Camp Kedron, Barmera. After three days of intensive rehearsal (swimming, board games, cards, a quiz night and plenty of food) the SA State Youth Brass performed 9 concerts over three days.

The band travelled to Loxton, Berri, Barmera, Renmark and Wilkadene with the blue tuba in tow and performed a variety of music spanning over 400 years from The Renaissance to a composition recently written for the ensemble by local composer, Dr Mark C. Smith called 'Land of the Blue Tuba'. Some keen players were even given the opportunity to perform as featured soloists and conduct the ensemble.

A final concert back at the campsite for friends and family included a special presentation of a SABA Award of Merit to organisor/ promoter and bus driver, Veronica Boulton. Mark C. Smith attended this concert to hear his new comosition that had been performed all throughout the Riverland.

A huge thank you goes to Veronica Boulton, Jen Shinnick, Alexandra Bowman, Jim Dempsey, Mary Westley, George Burton, Roy Pettifer, BJ O'Donovan and Dr Mark C. Smith for all your efforts in making this initiative such a success. Thank you to Riverland Brass for your hospitality and use of equipment. Also thanks go to the participants who performed and behaved so well, representing Holdfast Bay Concert Band, Hahndorf Town Band, Marion City Band, Playford Concert Band, Warriparinga Brass, Riverland Brass, Mitcham City Brass, Tanunda Town Band and The South Australian Band Assiociation.

To see more photos from the Camp and Tour, check out the SABA facebook page.